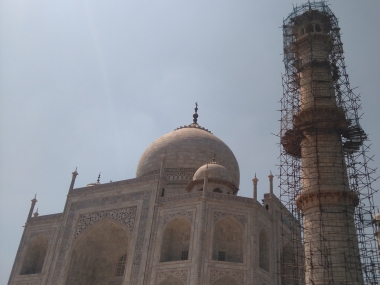 Agra: Two minarets of the famed Taj Mahal are undergoing conservation by the Archaeological Survey of India (ASI).

The Mughal monument has four free-standing minarets that frame the tomb. Each minaret is more than 130 ft tall, and divided into three equal parts by two working balconies.

"ASI is involved in conservation work from time to time. Right now, our chemical wing is working on the conservation of North-West minaret. Next is South-East minaret on which folding is there, and its white marbles and black marble borders will be changed. Besides these, some circular steps will also be changed," an ASI official told PTI.

The ASI had in 2012 informed the Supreme Court that the minarets of Taj Mahal continued to tilt but there was "no cause of concern" as it was within limits.

Elaborating on the nature of conservation work carried out at the monument, he said, "Conservation work is of many types. If the structure is of red sandstone, then we use thhe same for restoration. If it involves marble, there are other types-simple or engraving work which includes yellow, white and black marble."

ASI officials inspect the structure on a routine basis. Whenever there is a need, a proposal is submitted to the headquarters, and accordingly the funds are made available, he said.

When asked how the mausoleum was being protected from the threat of pollution, the official said, "We have Central Pollution Control Board's monitoring station here. They deal with the problem of pollution. We also have ASI's pollution control board which works for our department."

About the Uttar Pradesh government's Tajganj Project aimed at sprucing up the Taj Mahal's surroundings, he said,

"Cobblestone work has been done on the Shilpgram road. At some places, electric and drainage work has been done. Cobblestones are being put on the top surface of the stone.

"This work is being handled by the Uttar Pradesh Tourism department. In order to lay cobblestones within a 500-metre radius of Taj Mahal, they are also awaiting the nod of the Supreme Court," he said.

The Taj Mahal was built by the Mughal emperor Shah Jahan as a mausoleum for his wife Mumtaz Mahal. One of the seven wonders of the world, it was completed in 1653.

In 1983, the Taj Mahal became a UNESCO World Heritage Site and was cited as "the jewel of Muslim art in India and one of the universally admired masterpieces of the world's heritage".

The Mughal-era architectural wonder took nearly 20 years in the making and has been celebrated by artists, writers, poets, photographers, filmmakers, and many others through their works.